Roast is a British restaurant located in the Floral Hall mezzanine inside Borough Market. Opened in 2005, the restaurant's aim is to use seasonal and sustainable produce from the country's best farmers and fishermen and celebrate Britain's heritage and ingredients.
The elegant restaurant is divided into a narrow bar with glass walls overlooking the market and a large dining room with an open kitchen. I had been to Roast before for breakfast during the summer, but last week I had the chance to try their dinner menu. The occasion was the launch of Roast: a very British cookbook, written by Head Chef Marcus Verberne.
Featuring dishes for all occasions, from breakfasts and brunches through to lunches and dinners, this stunning tome recreates for the home cook some of Roast's most popular fare. Alongside all the classics can be found a host of new favourites in this best of British selection of fish, poultry, lamb, mutton, goat, pork, beef, game and vegetables, plus many ideas for puddings, cocktails and wines.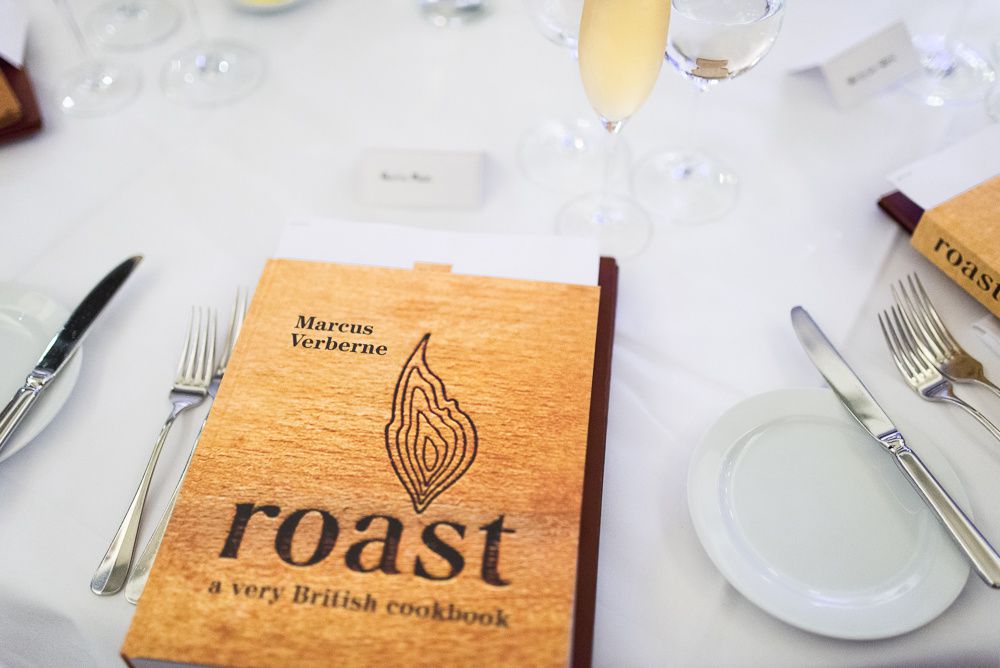 With the occasion of the launch last Thursday, the menu featured many dishes from the cookbook (obviously adapting some recipes depending on what's in season). The chef Marcus Verberne came to our table before dinner to present the cookbook to us and describe his experience writing it.
Roast is Marcus Verberne's first cookbook, but I wouldn't be surprised if he decided to write another one. Originally from New Zealand, Marcus is obviously very passionate about British cooking and spoke to us with great enthusiasm about the process of recipe writing and research.
While fruit, vegetables, bread and cheese are all sourced locally at Borough Market, the meat and fish served at Roast are sourced from outside London. Marcus often travels across the country to meet the restaurant's suppliers, like Coast Seafood in Dorset or different farms in Yorkshire. For the cookbook, he had the opportunity to travel with photographer Lara Holmes, who documented the project's developments with stunning photos.
Over 100 recipes illustrate Verberne's dual approach: to source the best local produce on offer and to let the flavours and textures speak for themselves.
What I most love about the cookbook is the "basics" section, with simple recipes like roast potatoes, bread sauce or poached eggs. My cooking skills have developed by trial and error, without guidance, so it's useful to go back to the basics and learn how to get perfect results with a few simple instructions! :)
The book also contains step-by-step photos of more unfamiliar preparations, like opening an oyster or butchering a duck. The images by Lara Holmes are evocative and beautiful, worth alone the price of the book.
During our dinner at Roast last week, we were welcomed at our table with a glass of champagne and bread and olives to snack on. I didn't order any starters, but I tasted the Creamed Somerset organic spelt with woodland mushrooms and hedgerow garlic. I had no idea spelt could be used to make a creamy risotto! It was really delicious.
The Seared Isle of Mull hand-dived scallops with whipped apple mash and smoked black pudding also looked great.
As a main course I ordered the Roast breast of Yorkshire cock pheasant with sprout top hearts, chestnuts and wild boar bacon. The recipe for the sprouts is included in the Roast cookbook and I can't wait to try it: the sprouts are used like baskets and filled with a sauce of chestnuts and bacon. An original way to cook Brussels sprouts!
I also indulged in the different side dishes that were served at our table: crispy roast potatoes, soft parsnips, broccoli and cabbage. Everything was so tasty! I filled my tummy with vegetables and barely left any space for dessert…
Just kidding! ;) For dessert I ordered the Sticky Date Pudding with toffee sauce and Neil's Year crème fraîche, another recipe that is available in the cookbook and that I will surely try. It was perfectly executed and I really liked how it paired well with the crème fraîche.
Marcus came back to our table to talk us through the dessert list and recommended us the Sea Buckthorn Berry Posset, which my friend Wendy ordered (and I tasted). What makes the sea-buckthorn berries so special is that they grow on the Cornish coasts and are very difficult to pick, as their branches are very thorny. The best way is to do it is to freeze a whole branch and then break the thorns and release the frozen berries.
I also tasted the Poached pear with ginger shortbread and walnut and honey ice cream which Federica ordered and it was delicious.
Overall I had a fantastic dinner at Roast (with lovely wine) and would definitely recommend it. It is an elegant environment, so it's perfect for a romantic date or a special occasion.
Disclaimer: I was a guest at the restaurant and I received a complimentary copy of the book. All views are my own.