Up To The Rooftop was a special showcase event at Smiths of Smithfield, which I was invited to attend two weeks ago.
Taking over five floors of a Grade II listed warehouse in Farringdon, across the street from Smithfield Market, SOS is a place to go to for brunches, cocktails, private parties and fine dining. I have eaten at the ground floor cafe a few times, but now I had the chance to eat at the top floor restaurant. I was very excited!
The event was hosted on the hottest week of the year so far, so drinking a glass of chilled wine (2007 Nyetimber English Sparkling) on the rooftop was extremely pleasing. I could glimpse at the sunset from my table during dinner, a beautiful sight!
After wine and canapés on the balcony, we moved inside for a short butchery demonstration with executive chef, Tony Moyse.
Smiths of Smithfield select the best quality rare breed British beef from farmers all over the country, ensuring they always serve meat of the highest quality. They then age and butcher the beef in-house.
Working on a 35kgs piece of Devon beef, Tony showed us how to butcher the meat and cut it into sirloins, rumps and ribs. He made it look easy and told us it would only takes 24 hours to learn how to butcher beef. Honestly, it didn't look that easy to me! ;)
After the demo, we sat down at the table for a three-course dinner, where each course was paired with two wines, selected by Master of Wines, David Gleave of Liberty Wines.
The starter was South Devon Carpaccio & Tartare, with Slow Cooked Yolk, Capers, Shallot, Gherkin, Ponzu Dressing.
It was paired with 2010 "La Rocca" Soave Classico, from Veneto, Italy; and "Plexus" Barossa Valley, South Australia.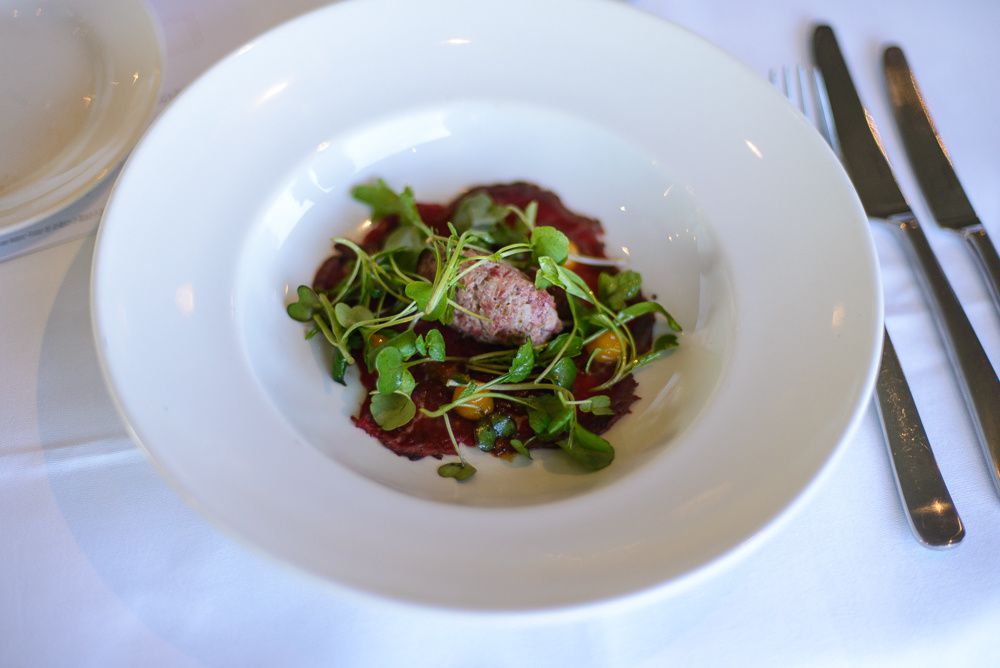 As mains, we had South Devon Rump (From Newton Abbot), Organic Aberdeen Angus Sirloin (from Rhug Estate, North Wales), Simmental Fillet (from Warwickshire), served with spinach, fresh leaf salad, fries and chips, and three house sauces: Bone Marrow Butter, Béarnaise, Peppercorn.
The fillet was my favourite meat: tender and cooked to perfection. Even more delicious with a dollop of bone marrow butter!
The wines chosen to accompany the main course were 2010 Côte-Rôtie from Rhone, France and 2008 Barolo, from Piemonte, Italy.
The fantastic meal ended with the "Eton Tidy", a no-mess version of the traditional English pudding, with strawberries, meringue, vanilla cream rice pudding and strawberry tuile.
The two dessert wines were: 2008 "Château Laville" Sauternes, from Bordeaux, France; 2011 "Cordon Cut" Clare Valley Riesling, Australia.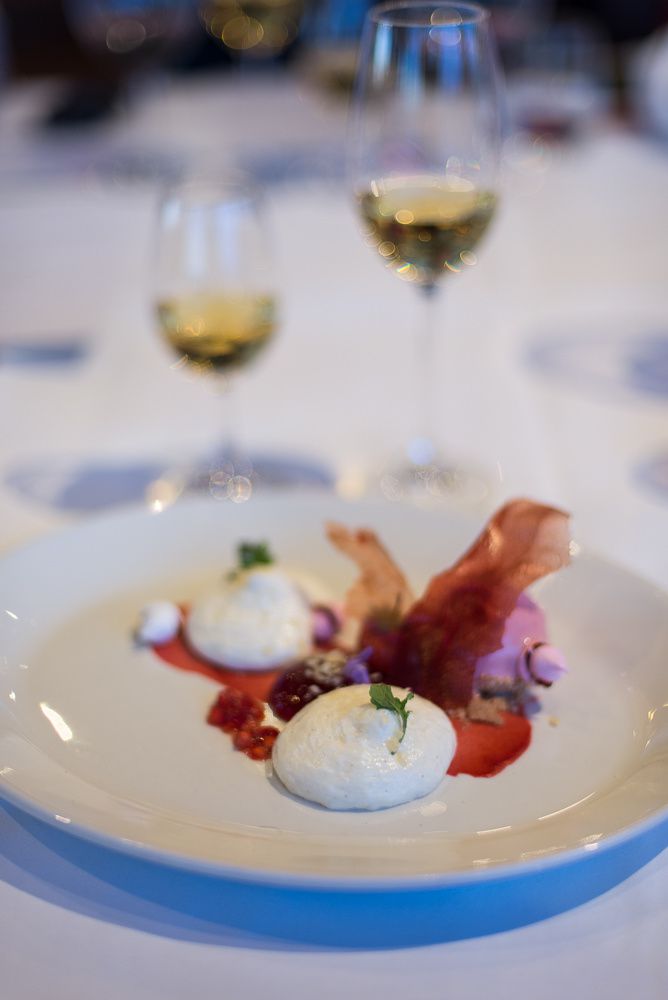 I have had a look at the prices at Smiths of Smithfield top floor restaurant and I appreciate this is not a cheap destination, but I don't think it is overpriced considering the quality of the food they serve.
Smiths of Smithfield could be perfect place to go for a special occasion: the meat is delicious, the location is great and the rooftop view never gets tiring!
Huge thanks to Smiths of Smithfield and Kitch Media for inviting me to the event.
Disclosure: I was a guest of Smiths of Smithfield. All views are my own.